Masayasu Mitsuke
This is an overglaze porcelain which uses the
red-figure technique.
The fine-line red drawing requiresthe most meticulous technique, which involves painting layered dots and
lines with red glaze and gold.
The design is so precise that it is hard to believe
it was painted entirely by hand; these pieces are
truly a wonder to behold.


Size: W42.7cm x H9cm.















Akae-saibyo-ozara "Koka"
(Large plate with red overglaze fine-line design "Koka")












Akae-saibyo-botan-hai
(Goblet with red overglaze fine-line peonies)















Akae-saibyo-takara-zukushizu-koro
(Incense burner with red overglaze fine-line treasures)













Akae-saibyo-daiyamon-chawan
(Teacup with red overglaze fine-line diamonds)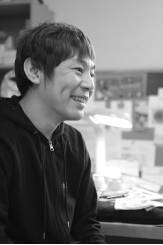 Masayasu Mitsuke
Profile
1999  Traditional Kutani Ware Craft Exhibition: first submission won a prize
2000  Traditional Kutani Ware Craft Exhibition: Technique Prize Same work housed by Ishikawa Prefectural Museum of Art.
2006  Designated by the Minister of Economy, Trade and Industry as a Traditional Craftsman.
2009  Awarded Third "METI Manufacturing Industries Bureau Chief Prize", at Japan's Traditional Craft Competition.

2010  Work selected for "REVALUE NIPPON" project